E-Live 2016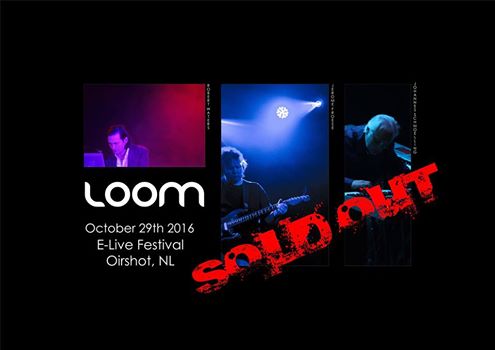 E-LIVE 2016 IS SOLD OUT NO MORE TICKETS AVAILABLE
October 29th - In the Enck in Oirschot!!
E-Live is sold out so no more Tickets available.
And this is going to be the time table for this years E-Live/

12:00 - Bar area open
13:00 - Box office open (Day opens)
13:30 - Concert upper room Thomas Tommy Betzler and Michael Brckner
14:15 -15:30 Concert Cosmic Ground
16.15 -17:30 Concert VOLT
17:30 - 20:00 Break / Concert upper room
20.00 - 21.00 Concert LOOM - Jerome Froese, Johannes Schmoelling & Rob Waters
21:30 - 22:45 Concert LOOM - Jerome Froese, Johannes Schmoelling & Rob Waters

During the breaks more performances by Thomas Tommy Betzler and Michael Brckner
in the upper room (A special room).

Because we expect 350 + People in the house!!
We have added a special treat for all you EM lovers.
Modullab will be in the Upperroom stage.
4 Concerts with all modular analog synths.
On the Modulab events we present artists that bring their extended
modular setups for a visual and aural experience. We feel that live
modular synthesis is a unique art form that can be fun and exciting to
experience. With Modulab Eindhoven we want to provide a platform in
our region to support this art form so that both artists and audience
can enjoy. Modulab is a non-profit initiative by and for musicians. If
you have ideas, want to help or participate please send us an email.
See you at Modulab at E-Live 2016!

You can reach the venue in Oirschot by car, by bus/train, a taxi and
people in the neighborhood by e-bike/bike or even walking perhaps.
People who want to come by public traffic visit the site http://9292.nl,
to find times for departure and arrive time in Oirschot.
People who want to come by car, you can park the car free around the
venue but look at the signs there is an area where the parking time is
restricted and its controlled so don't get a ticket you can better
spent that money inside the venue for cds. food and other merchandise.

For E-Live no tickets will be sent to the visitors, but you should have gotten an
Ticket email conformation. Tickets can be collected at the ticket counter
with names on it, if you're name is on it you got a bracelet to enter the venue
where the concerts are, this will be checked each time the door of the venue will be opened.
The entrance for the cafe (with the stands) and the upper room concert is free.